#s A B C D E F G H I J K L M N O P Q R S T U V W X Y Z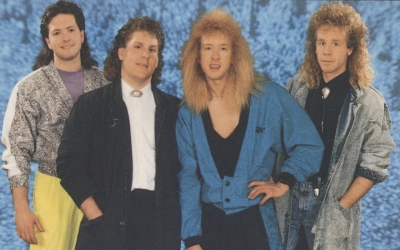 The Story Of Our Lives
(click on Artist's name above to return to artist's main page)
Category: AOR
Year: 1995
Label: Independent / Self-Release
Catalog Number: None


Personnel
Shawn Anderson Lead And Backing Vocals, Keyboards, Acoustic Guitar, Sequencing
Sean Mccombs Lead Guitar, Background Vocals
Chad Doran Bass, Acoustic Guitar, Background Vocals, Lead Vocals On "Jesus In Me"
Mike Bell Drums, Percussion

Tracks

| | | |
| --- | --- | --- |
| 1. | Right From The Start | |
| 2. | Dead-N-Gone | |
| 3. | Necessary Pain | |
| 4. | Pray | |
| 5. | Autumn Leaves | |
| 6. | Lay It Down | |
| 7. | Share It With You | |
| 8. | The Story Of Our Lives | |
| 9. | Jesus In Me | |
| 10. | Shepherds Carol | |
---
Existing comments about this CD
From: Sandi Glam (---.ubr1.fmtn.mo.charter.com)
Date: November 24, 2004 at 12:30
This is not as strong a release as the first two, but it's still VERY good. If you like the first two, you'll like this one too, but probably just not quite as much. Unlike the first two releases, there are a couple of songs on here that sound nothing like the traditional DOXA sound, but it's worth getting just to get the rest of the songs. GREAT stuff!!!
---
Add your own comments!
Add your own comments/review about this disc. No HTML is permitted, and you are limited to 500 characters per entry (anything after the 500 characters will be deleted). Standard smilies are active.
NOTE: Flaming and off-topic posting is off limits now, as are trade/sale requests. Keep your comments/reviews to the CD/artist on this page. If you want to start a tangent or a flamewar, or request trades/sales, please use the Site Message Board for that. Thanks!