#s A B C D E F G H I J K L M N O P Q R S T U V W X Y Z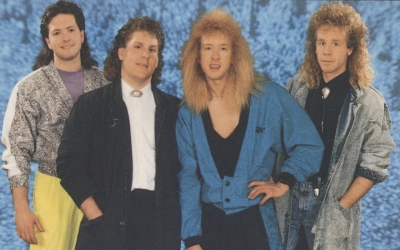 Send Me
(click on Artist's name above to return to artist's main page)
Category: AOR
Year: 1991
Label: Blue Diamond Music
Catalog Number: BDE002


Personnel
Shawn Anderson Keyboards, Lead & Backing Vocals
Shawn Driscoll Drums, Percussion, Backing Vocals
Gene Reynolds Guitar, Bass, Lead & Backing Vocals

Tracks

| | | |
| --- | --- | --- |
| 1. | Hold On | |
| 2. | Master's Plan | |
| 3. | Eternally | |
| 4. | Sing A New Song | |
| 5. | When I Stand | |
| 6. | Just A Prayer Away | |
| 7. | Sing Your Praise | |
| 8. | Quite Times | |
| 9. | The Great I Am | |
| 10. | Ya Know | |
---
Existing comments about this CD
From: Sandi Glam (---.ubr1.fmtn.mo.charter.com)
Date: November 24, 2004 at 12:29
Excellent full length follow up to the EP. Almost every song is great. The ballad 'Eternally' is one of the most beautiful Christian ballads I've ever heard, right up there with Stryper's 'My Love I'll Always Show.' Another highly recommended release from these guys!!!
From: Sister C. (---.nbson.com)
Date: October 14, 2005 at 17:01
Their best album! This is a must for DOXA fans. 'Eternally' is my favorite all time song.
From: Big Brother (---.client.mchsi.com)
Date: October 14, 2005 at 17:04
Solid 80's style rock album.
From: Jamie (---.healthenterprises.org)
Date: October 14, 2005 at 17:08
I love this album! It's worth it just 4 'Eternally'! The only Christian band I like better is Mastodon.
From: Fan (---.143.50.104.Dial1.Chicago1.Level3.net)
Date: October 9, 2008 at 2:10
A very early 80's look here. The list of performers has only 3 names, but the picture has 3 guys and a blonde girl? guy? What's up with that? Good music either way.
From: wiugirl (---.dia.static.qwest.net)
Date: November 9, 2011 at 13:25
I remember them well! Local QC band that was very popular. All guys, all four of them. they were prettier than their wives/girlfriends! LOL!
From: Mikeinthemornin (---.res.spectrum.com)
Date: June 19, 2021 at 15:09
Why is Bernie Caulkins not credited here? He played bass for the band, early 90's… He is the fourth guy in the photo….
From: Emanuel Skeats (---.colocrossing.com)
Date: September 20, 2022 at 0:07
Hello. It is with sad regret to inform you LeadsTree.org is shutting down this week. We have made all our dataabses available at a one-time fee. LeadsTree.org
From: Noemi Colvin (---.)
Date: November 11, 2022 at 4:42
Hello, I regret to inform you that LeadsTree.org will shut down Friday. We have now made all our databases available to the public on our website at a one-time fee. Visit us at LeadsTree.org
From: Johan Fourie (---.compute-1.amazonaws.com)
Date: November 30, 2022 at 13:37
Greetings from Marketing Databases! We now providing email-marketing servers for you. At $149 per month (non-subscription) you can send 1 million emails a day. Your own domain Your own mail server Clean IP DNS setup done for you Delivery in 24 hours. All marketing mails allowed (cold emails), we don't block you for anything. WhatsApp us on +27 76 789 0856
From: Vince Meredith (---.ca-central-1.compute.amazonaws.com)
Date: February 17, 2023 at 11:54
Hello, MegaLeadsTree.com is shutting down. We have made available all our leads in 145 countries at a one-time fee. Visit us on MegaLeadsTree.com.
From: Joann Lysaght (---.colocrossing.com)
Date: March 8, 2023 at 13:20
DataList2023.com presents all the new leads for you per country! Visit us on DataList2023.com
From: Kandis Ralph (---.174.83.34.bc.googleusercontent.com)
Date: March 21, 2023 at 13:02
Hello, we visited heavensmetal.com and noticed you do not have a mobile application. We have a service that provides mobile Apps to companies just like yours. You can learn more by visiting us on MakeMySiteMobile.com Regards, Kandis
---
Add your own comments!
Add your own comments/review about this disc. No HTML is permitted, and you are limited to 500 characters per entry (anything after the 500 characters will be deleted). Standard smilies are active.
NOTE: Flaming and off-topic posting is off limits now, as are trade/sale requests. Keep your comments/reviews to the CD/artist on this page. If you want to start a tangent or a flamewar, or request trades/sales, please use the Site Message Board for that. Thanks!