#s A B C D E F G H I J K L M N O P Q R S T U V W X Y Z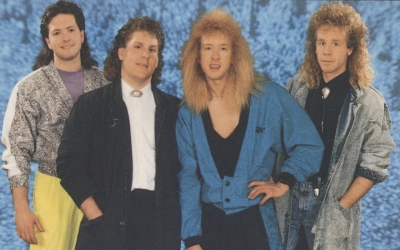 Doxa
(click on Artist's name above to return to artist's main page)
Category: AOR
Year: 1990
Label: Blue Diamond Music
Catalog Number: BDMEP-1


Personnel
Shawn Anderson Keyboards, Vocals
Bernie Calkins Bass, Vocals
Shawn Driscoll Drums, Percussion
Gene Reynolds Guitars, Percussion, Vocals

Tracks

| | | |
| --- | --- | --- |
| 1. | Saving Light | |
| 2. | Give It All | |
| 3. | Follow Your Heart | |
| 4. | Quite Times | |
---
Existing comments about this CD
From: Sandi Glam (---.ubr1.fmtn.mo.charter.com)
Date: November 24, 2004 at 12:27
I picked this EP up on cassette at a local pawn shop in Missouri, and I was floored. All four songs are utterly brilliant, and as catchy as good keyboard-driven AOR can be. HIGHLY recommended!!!
From: Cadaveron (---.dsl.rcfril.sbcglobal.net)
Date: June 2, 2010 at 23:24
WOW! Blast from the past! I saw these guys play in the parking lot of Target in Moline, IL around '92 or '93. I have two of their albums, including this one. Pretty good '80s arena rock style. See the guy on the far right? He looks EXACTLY like Chuck Norris now. Yep.
---
Add your own comments!
Add your own comments/review about this disc. No HTML is permitted, and you are limited to 500 characters per entry (anything after the 500 characters will be deleted). Standard smilies are active.
NOTE: Flaming and off-topic posting is off limits now, as are trade/sale requests. Keep your comments/reviews to the CD/artist on this page. If you want to start a tangent or a flamewar, or request trades/sales, please use the Site Message Board for that. Thanks!