#s A B C D E F G H I J K L M N O P Q R S T U V W X Y Z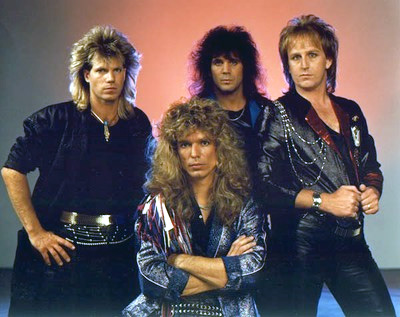 It Won't Be Long
(click on Artist's name above to return to artist's main page)
Category: Hard Rock
Year: 1988
Label: Frontline Records
Catalog Number: CD9035


Personnel
Chuck King
Ken Tamplin
Loren Robinson bass

Tracks

| | | |
| --- | --- | --- |
| 1. | Never Stop | |
| 2. | Winners or Losers | |
| 3. | It Won't Be Long | |
| 4. | Find a Way | |
| 5. | Dancin' Round the World | |
| 6. | Shout | |
| 7. | Showdown | |
| 8. | Timeless Love | |
| 9. | Without You | |
---
Existing comments about this CD
From: James (IP unknown)
Date: December 25, 2001 at 9:52
A good album, although a little lite. Sounds like an AOR Whitesnake at times.
From: Tom (IP unknown)
Date: April 20, 2002 at 6:18
I really like this record. They have more keyboards on this record than any of their subsequent releases (as Shout or Tamplin). 'Find A Way' sounds like Journey. But there are some fierce rockers on here too. Bangers like Winners or Losers, Dancin Round the World, Shout, and Showdown are sure-fire crowd pleasers for metal fans. While they went into a slightly heavier and more guitar-oriented direction after this record, this is still a great record worthy of any Christian metalhead's collection.
From: chrisb (IP unknown)
Date: October 31, 2003 at 20:18
growing up on 80's metal... this one always brings back killer memories... since hearing them i have been not only a shout fan but tamplin as well... great songs, great music killer album..
From: Salomonkey (IP unknown)
Date: April 24, 2004 at 17:56
Very good album with a couple of great songs like never stop, winners or losers, showdown and without you.
From: Doug (IP unknown)
Date: August 22, 2004 at 11:54
I also have the Christian Rock & Metal 1988 Release East Coast Metal on CD thats Ouit of Print ...
From: rick kerch vzla (---.dyn.dsl.cantv.net)
Date: February 26, 2007 at 21:50
Excellent debut album is all i have to say!!!.10/10
From: Scott (---.sub-166-249-106.myvzw.com)
Date: March 24, 2012 at 21:22
i am really big fan of shout pleasehare any music you may have of them very rare and very hardto find
---
Add your own comments!
Add your own comments/review about this disc. No HTML is permitted, and you are limited to 500 characters per entry (anything after the 500 characters will be deleted). Standard smilies are active.
NOTE: Flaming and off-topic posting is off limits now, as are trade/sale requests. Keep your comments/reviews to the CD/artist on this page. If you want to start a tangent or a flamewar, or request trades/sales, please use the Site Message Board for that. Thanks!